MUSCLEBEACH
Storied • Iconic • Legendary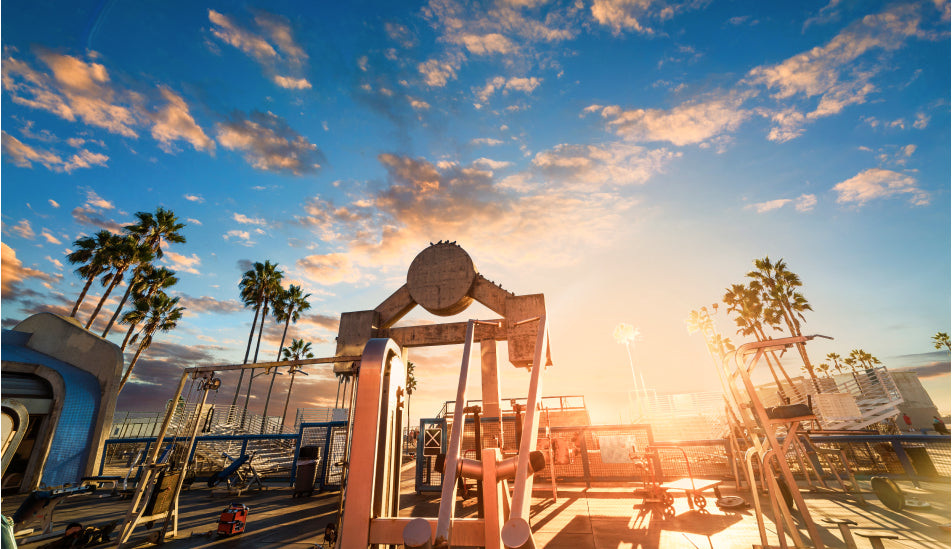 The first spark
The current health and fitness boom that has been sweeping the globe for more than the last 4 decades was born and raised right here on the sun-soaked stretch of beach in So Cal, where the muscle is as plentiful as the waves.

This is where the revolution started! Where body building and fitness became a part of the mainstream culture-spreading far & wide to all corners of the world with pioneers like Jack LaLanne, Steve Reeves, Arnold Schwarzenegger, Franco Columbo, Joe Gold, and Joe Weider, just to name a few. And, as constant as the waves, the fitness movement has carried on through the generations, dating to its origins; all-the-way back to 1930.
The Epicenter
•

The Mecca

•

The Phenomenon

The MUSCLE BEACH NUTRITION brand was born right here from the same energy. It is inherently in our DNA. Our corporate office is located right here in the middle of it all. Where the concrete meets the sand. If you want to live the fitness lifestyle this is the "center of the universe!" Its where we live & breathe the culture of physique, the physiology of athletics, the pulse of fitness, the lifestyle of health & wellness... all playing-out right outside our front door.

Affectionately, we refer to our home as The Proving Ground. Which is exactly how we approach each & every ingredient in any MUSCLE BEACH NUTRITION product. We feel so strongly about MUSCLE BEACH NUTRITION leading the way that our pledge and dedication is to raise the bar for excellence in Sports Nutrition. In other words, our guarantee is as strong as our name! Members of our team are steeped in the core of Sports Nutrition, having worked with the biggest names in the industry and we are always advocating for integrity and compliance with products and ingredients. We believe only in ingredients that are effective and safe and crusade for truth and transparency in product labels. We test and certify down to the single ingredient sourcing with the promise that you see on our labels "Does not contain any substance banned by the NCAA, IOC, WADA, or any mixed martial arts, bodybuilding, powerlifting, or weightlifting federation, or by the U.S. Armed Forces."

MuscleBeach Nutrition, LLC.